Life's A Sales Call:
How To Succeed In The World's Oldest Profession
By Jack Warkenthien
NextStep Solutions is offering the opportunity to purchase Jack Warkenthien's Book via the internet!
Do you have real relationship skills? Can you create an ever-expanding network and community of friends and clients that creates abundance for you in every way? When necessary, can you convert your relationships to revenue streams?
Welcome to the world's oldest profession - sales! Ever since Eve sold the apple to Adam on that fateful day, the earth has been moved by compelling sales calls. It doesn't even matter whether you're selling a product, service, opinion, cause or anything else.
As Jack Warkenthien shares his own stories of developing relationships, you come to know him and yourself. Learn about the qualities of Respect, Enthusiasm, Listening and other characteristics of success in a humorous, precise writing style that leaves you inspired to create a living, breathing, human connection that is your key to a sale - every time!

It's not just a book, it's a relationship!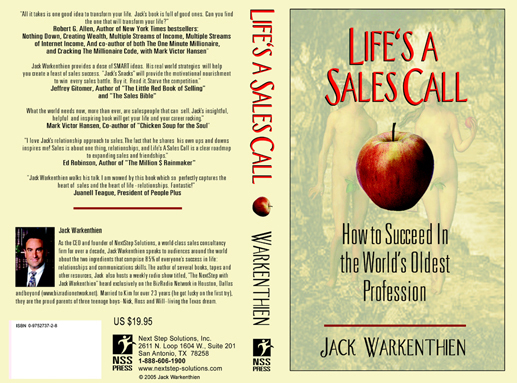 Life's A Sales Call:
How To Succeed In The World's Oldest Profession.............................. $19.95
(Price does not include applicable tax, shipping and handling)